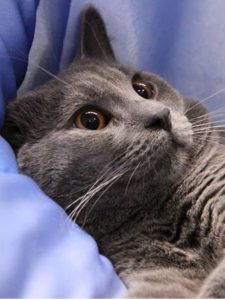 The Chartreux cat is a robust natural French breed , with a long history. It is one of the few breeds that only comes in blue. Neither gregarious nor shy, they are calmly attentive,and will sit back and observe before making a decision, the Chartreux is a tolerant and gentle breed. It Is thought that these " Blue cats of France's" ancestors were feral  mountain cats from what is now Syria, they were adopted  by the country in the 16th century, and stories began about these stocky cats with a wholly ash-grey coat and copper eyes , valued for it's ratting abilities. Once hunted for their pelts , natural colonies were known to exist, but were never very numerous. After the 1st World War, French breeders, wanted to save , and preserve this ancient cat, so they put together a breed standard, based on 18th century naturalists descriptions, the breed hasn't changed much since then. 
Breed standard:-  The Chartreux is a large and muscular cat, with fairly short fine- boned, but strong  limbs, sturdy, with broad shoulders, and deep chest. The head is comparatively large and rounded, but not a sphere, with a slightly rounded forehead, full cheeks, and powerful jaws, but an overall sweet , smiling expression. The ears are placed high on the head, of medium size, rounded tips. Eyes are rounded and open, fairly large, and gold to copper in colour, orange being the preferred colour. The muzzle is narrow, but not pointed. Tail is heavy at the base, tapering to an oval tip. The coat is dense slightly woolly, and weather resistant, any shade of blue-grey, preferably with an iridescent sheen. They are large ,but not cobby cats, that are extremely agile, and supple. They have a gentle but seldom used voice and tend to chirrup instead of miaowing, and overall are a calm and affectionate cat.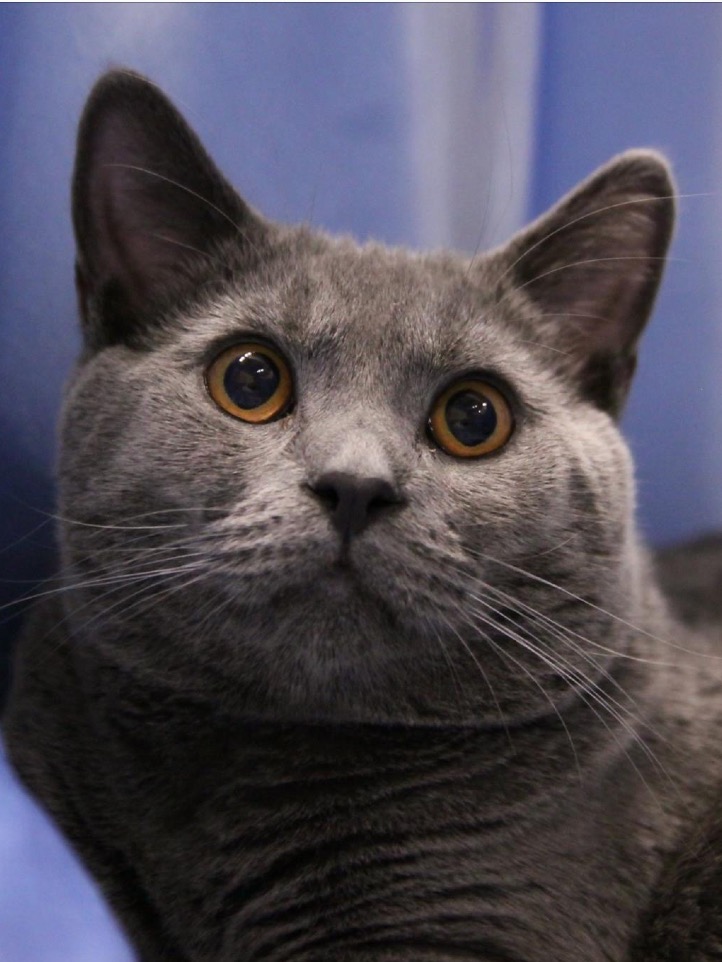 Macan de Midilys.
Please, please, please can I have some more treats!!  Melkelter Noble Norvyn, aged 14 weeks old.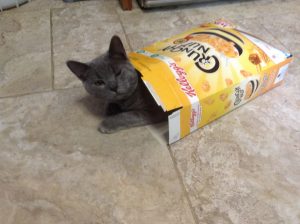 Macan. Bit of a Crunchy Nut!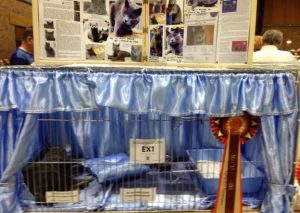 Macan on Exhibition, to help get the Chartreux breed recognised by the GCCF.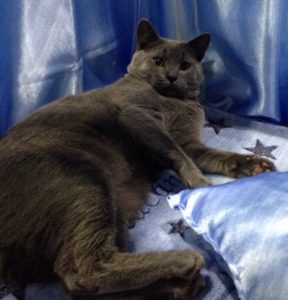 He is a very laid back boy!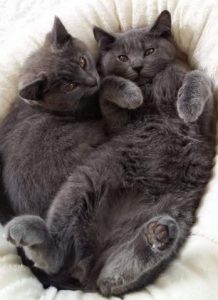 Macan and Maddison, he hasn't changed much!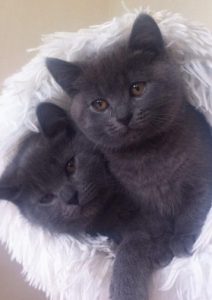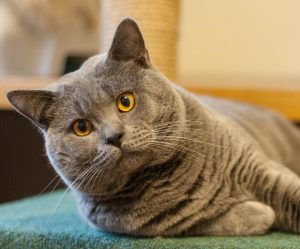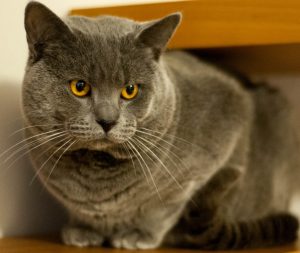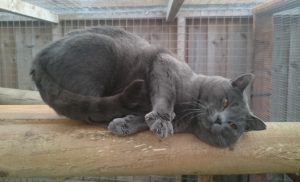 Le Petit Prince.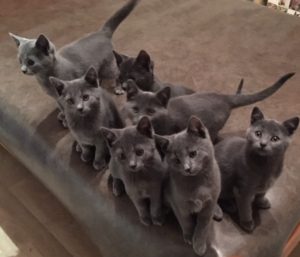 Prince and Nancy's 7 kittens, 2018.
Odin and Omee aka "Dinky ".
Odin and Omee in another  lovely pose!!