Overall Best Kitten 2014. Grand Champion Melkelter Galiya Gertruda.  
Russian Blue cats are thought to originally have come to this country on boats from Archangel, a Russian port. These beautiful cats are a "Foreign cat" , with long graceful bodies, elegant legs, small oval paws and a tail tapering of a fairly long length, yet balanced, and in proportion. The short wedge shaped head, is topped by vertically set, large pointed ears. The Russian has very broad prominent whisker pads, and vivid green , almond shaped eyes, the whole look should be gentle , and some would say a drunk appearance, one vodka too many! 
The coat of the Russian is the feature that sets it apart from any other breed. It is thick, and double, it's also dense, and silky soft to the touch, with a silvery sheen, absolutely wonderful. The Russian should look very aristocratic, they can be quiet, and sometimes a little shy, but on the whole they are a very friendly, loyal cat, that bonds well with it's owner. They are adorable companions, and make excellent house cats.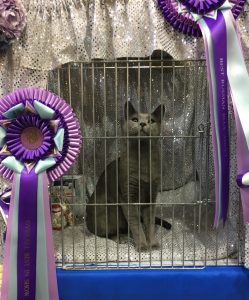 Gr.Ch Melkelter Galiya Gertruda.
Overall Best in Show RBBA 2017.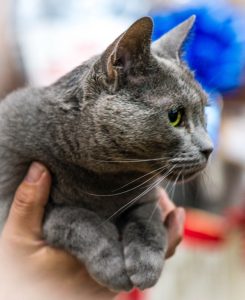 GrCh Melkelter Sybilla Luba. Best in Show at Chester and North Wales 2017.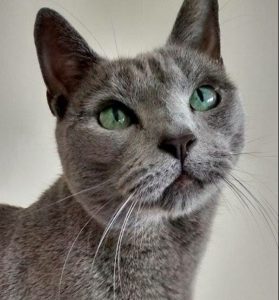 Imp Gr Pr Melkelter Zarovskina.